The web has countless websites, web shops, applications and so on. But what makes one website better than the other? That can be many factors. Factors that are more obvious, such as; appearance, use and findability for example.
1 factor that is often overseen or underestimated by companies is; Authority. But is that correct, because is an authority not something that every website, webshop or application should strive to be?
The importance of being an authority
First let's look carefully at what it now means to be an authority;
According to Wikipedia;
"Knowledge may originate or be derived from the following origins or methods, for example Authority"  (see; https://en.wikipedia.org/wiki/Methods_of_obtaining_knowledge)
PS: Sadly the instance directly on authority pulls it into a very different perspective)
According to VanDale;
"The power to influence others, especially because of one's commanding manner or one's recognized knowledge about something."
(see: https://en.oxforddictionaries.com/definition/authority)
In short, an authority; a certain organization or medium with authority (which you could also translate into knowledge) in a specific area. Well that sounds like something you want to be on the web in the field where you are with your company?
Are you an authority?
If you want to become an authority in a certain discipline, then the necessary challenges arise. More about this later, but first let's make clear how you can actually demonstrate and measure that you are an authority.
Fortunately, we know on the web; domains.
A domain is in fact a kind of container for a lot of analytical matters. By that I mean that the values (usually) are all focused on the domain. This is the case for your findability, for how a domain performs etc.
But also for insights into whether you are considered an authority on the web there are several factors. The most important ones are; Trust flow (Domain Authority), Citation flow (Link Juice) are the most important.
Trust flow
The term Trust flow stands for a value whose number predicts how reliable a domain is. This is based on the amount of reliable incoming links to the domain. The greater the number of reliable links to the domain, the higher the Trust flow.
However, it also applies that when the number of unreliable links increases, the Trust flow becomes lower. Websites with relatively many incoming links from reliable websites will have a higher Trust flow than websites with relatively many incoming links from unreliable websites.
Trust flow is also often called Domain Authority.
Citation flow
Citation flow is a value whose number predicts how much influence the domain has. This is based on how many links were made to the domain. The larger the number of links to the domain, the higher the Citation flow.
With this inbound links from URLs with a higher Citation flow weigh heavier than inbound links from URLs with a lower Citation flow.
Citation flow is also often called Link Juice.
How to measure Trust and Citation flow?
Provided there are a reasonable number of tools on the web that can measure these values. Reviewing them all maybe too much for specific item and I therefore limit myself to the solutions that we believe to be the most important; SEO Majestic, Moz and Google.
Google
Google is there but does not really give real concrete values anymore. In the past (before December 2013) you could still use the so-called Google PageRank. But that value was fairly limited in what insight it actually gave back to you.
Moz
SEO specialists started using the values ​​of Moz ( https://moz.com/ ) because Pagerank gave too little insight into the 'value' of URLs. Moz is still a party that can give you a lot of insight in SEO.
But that may also be the downside; Moz is 1 large product with lots of options. And that's a good thing but sometimes a tool whose core business is something specific is better than a multi-purpose tool. (a tendency that goes for many more things than just for this example)
Majestic SEO
Majestic SEO ( https://majestic.com/ ) claims that their Flow Metrics provide a more accurate picture of the value of a URL than the metrics used by Moz. SEO Majestic also claims to have the largest database of links that is updated daily, in contrast to Moz's monthly update.
To give you a quick picture of the insights that come up in SEO Majestic;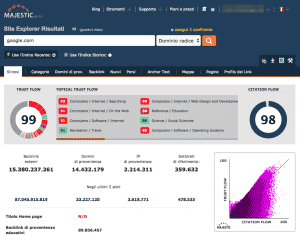 The above is of course an extreme example, because after all it is Google and they may have one of the best Trust (links) and Citation (right) flows.
If you look at Trust and Citation Flow then you actually want the 'flame' that SEO Majestic has to build up really as a flame.
Let's look at the example below;
The left 'flame' is much stronger than the right in this. In addition, the relationship between Trust and Citation on the left is closer than that on the right. That is also an important factor that is not entirely self-evident.
It's a lot of information, but maybe the video from Majestic SEO can make it a lot clearer for you;
Let's measure and become an authority!
Wow, settle down, I understand that you want to take steps in this area too, but at least let me give you some tips on how to deal with building your Trust and Citation flow.
Many people pounce on it so hard without thinking about 1 very important factor, and that is Google.
Google looks very much at how a link profile arises, in short, you need to develop your link building and Trust and Citation flow in an organic way. With organic Google means that it must of course arise naturally and must not be forced or made.
Therefore, here are some tips on how you should start building your link profile with an eye on Trust and Citation flow;
Go for the qualitative links, do not go for masses of low dangling fruit; sometimes a somewhat lower link can not be evil by definition. In terms of quality, also look at how the Trust and Citation flow of the links that you have in mind.
Go for links that actually mean something in view of the context of your content; if you are a locksmith then a link from the baker is not necessarily a valuable link, then a link with a supplier or manufacturer is much more interesting.
Do not ask dozens of links in 1 time, spread it out; if you suddenly apply for 50 links and they are all are realized quite shortly after each other, while that did not happen before, then that stands outfrom what is normal. Google sees such matters and will, if there is any suspicion, investigate and possibly take action.
Also be sure to check how your requested link is being treated!
What is the anchor text? You also want to spread the density of this in different ways. Think of the different ways you can note down your company.  Sometimes this happens unconsciously but just thinking about it, it can not hurt because if you sometimes write it differently, other people will do that too!
Is it a dofollow, nofollow link? Much has been written about it but in short it also means that it must be in natural balance for (you guessed it) Google. Of course, dofollow links are the most interesting in terms of link juice (Citation flow). But do not go for those only. Imagine you can get a qualitative link but it is a nofollow? Then I would say just do it.
Building a link profile
Building a link profile that takes into account all factors that are important, such as Trust and Citation flow, is simply a lot of work. In addition, requesting links from the necessary parties, pages, etc., should also be something that you are suited for.
Sometimes it's extremely easy, you ask your link, and it's being arranged.
Sometimes it is painfully slow or there are conditions. You ask your link, you get the request to give more information about the how and why, you get to do with the costs of placing the links or you simply do not receive a response for weeks (or months).
All scenarios that can occur and what you need to be prepared for.
Just go for it!
When I say this I mean really go for it. You are only as good as you are committed to it.
If you are already an authority in your field, superb, work hard to stay it and where possible get even better.
If you are not you? Well there is nothing wrong with that, because you will not just get to be an authority overnight. Do everything to become it. In fact, be the superhero version of the medium you already are and make sure that people can not get around you AND do so in just taking the right approach.
Do not be fooled by using blackhat, tricks or relying fully on SEA.
If you do that then you are on your way to becoming a superhe… authority!  Ok perhaps you are then also a little bit busy becoming a superhero!
That all said to have; if you are interested I would like to look together with you for what are good-quality links for you. Links that will improve your Trust and Citation flow in a natural way and you, together with your overall commitment to your field, will make you an authority on the web!